No-Bake Cereal Scotch Bars Recipe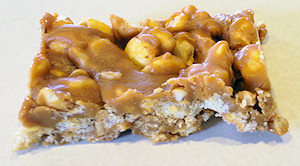 INGREDIENTS:
1/4 cup butter
1/4 cup light corn syrup
1/4 cup sorghum
6 oz pkg butterscotch chips
1/2 cup chunky peanut butter
1/4 tsp salt
4 cup puffed rice
1/2 cup flaked coconut 4

DIRECTIONS:
Combine butter, corn syrup and sorghum; bring to a boil. Remove from heat. Add butterscotch chips, peanut butter and salt. Stir until bits are melted. Carefully add puffed rice and coconut, stirring carefully, until all pieces are coated. Press mixture evenly over the bottom of a buttered 9x13x2 inch pan. Cool; cut into 3x1 1/2 inch bars. Yields 24. This is a good treat for the young and old alike. Quick and easy.
You may also like our Sorghum Recipe Cookbooks. Click Here