Crunchy Peanut Bars Recipe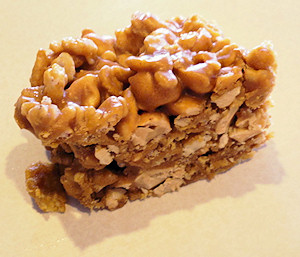 INGREDIENTS:
1 cup sorghum
1 cup sugar
12 oz can roasted peanuts
1 cup peanut butter
2 cups corn flake cereal
2 cups crispy rice cereal
non stick vegetable spray

DIRECTIONS:
In a large saucepan, over medium-high heat, bring the sorghum and sugar just to a boil. Do not overcook, just dissolve the sugar. Remove from heat. Stir in the peanut butter. Quickly blend in peanuts and corn and rice cereals. Spread in a 9x13x2 inch pan that has been sprayed with non-stick vegetable spray. When cool, cut into bars. Yields 2 1/2 dozen bars.
You may also like our Sorghum Recipe Cookbooks. Click Here